ACA IT-Solutions wins the Liferay Community Award again - article
On Friday October 6, 2017 the COIN business unit at ACA IT-Solutions has been chosen as a Liferay Community Excellence Partner for the fourth year in a row. Liferay announced this news at the European developer conference Devcon. Yesterday the real Award ceremony took place in Austin, Texas, during the North American Symposium. Each year Liferay chooses the winners from a global selection of IT companies that contribute to the Liferay community.

Ever since its founding in 1998, ACA IT-Solutions believes in open source. COIN, the business unit for content and information solutions, is established by the same ACA values. It's why the COIN team members consider it important to contribute to a community. The confirmation of this belief by means of the Liferay Community Excellence Award therefore gives the entire team an enormous boost.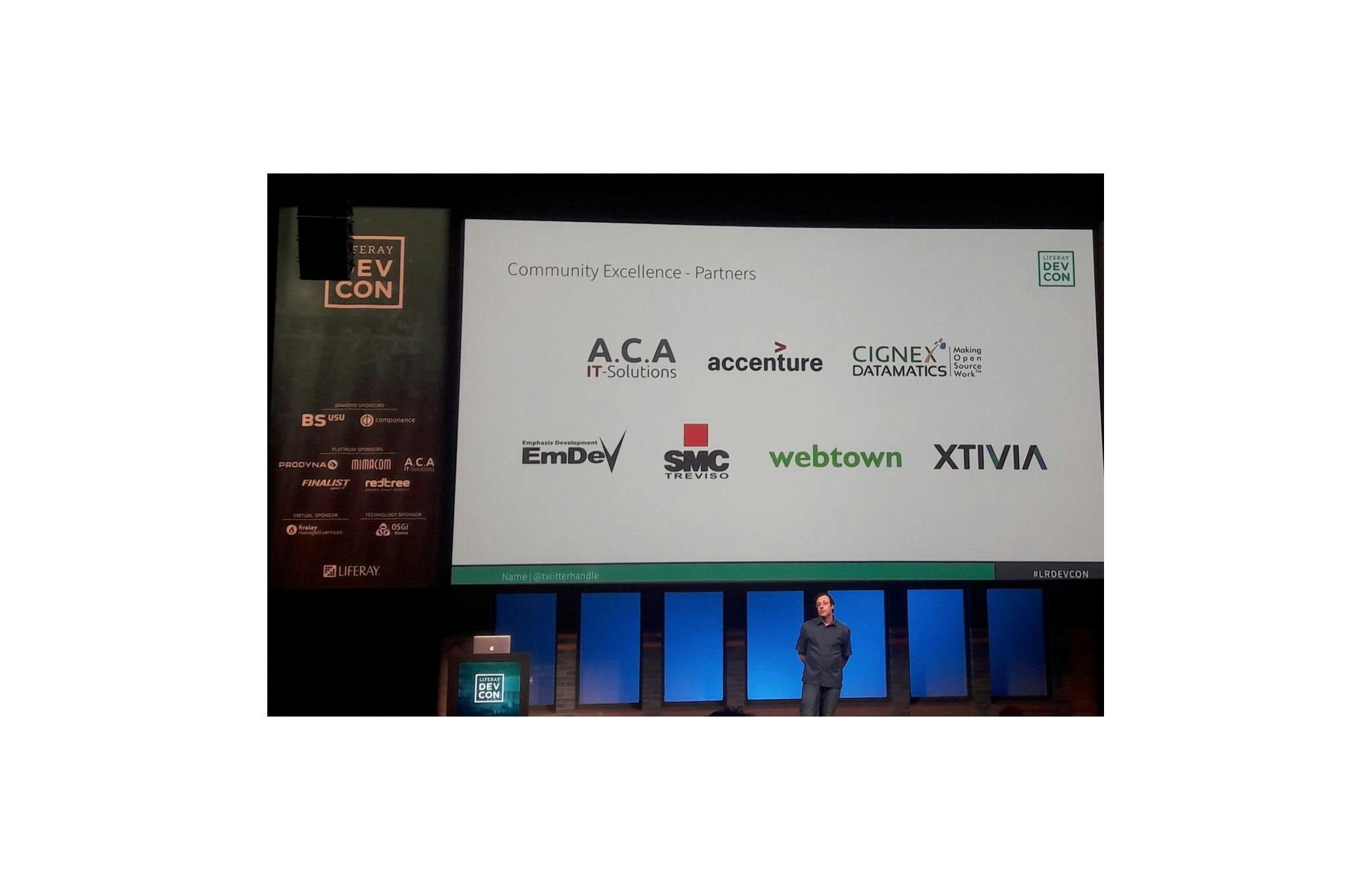 Recognition of our expertise
Because of COIN's engagement, Liferay as a product becomes more stable and new features are taken into account for the following releases. The Award recognizes the expertise of the team. "It's impossible to win this Award if you don't have any expertise in the product. You can only do technical research and develop solutions for reported bugs in the Liferay community if you know the product inside out," Jelle van der Linden, Digital Flow Consultant at COIN, says. "With the Award we can convince our clients of the expertise that we already have and use to realize their Liferay project."
Research on new Liferay integrations
COIN does a lot of research on how to integrate Liferay with other technologies and software packages. The product experts of the COIN team are often asked to speak on events. On these events, they put the power of Liferay and less obvious integrations with the platform into the spotlight. On top of that, they publish their findings on the Liferay forum, but also on the Liferay and ACA IT-Solutions blogs. By openly communicating about their wins and failures, other teams from over the whole world can take informed decisions or reduce risks based on this knowledge. Of course the team only communicates about their findings during a project in consultation with the client. This way, we don't endanger the competitive character of their application.
Investing in the Liferay community
"The Award isn't a goal in itself. The effort that we put into the community is a result of the quality and added value that we deliver to our clients. Nevertheless, it's great to get this recognition from Liferay. It confirms that Liferay values the community and their clients, just like we do. So, we'll keep investing in the Liferay community in the future," Jelle explains. "We believe that Liferay is the ideal platform for a digital experience portal because of its openness and technical foundation. In addition, Liferay is quick to adopt new trends in the market. That's why we want to keep supporting them by sharing our experiences with them and the community."