Risk mitigation when migrating to a new ECM platform
Faculty Club Leuven
1/12/2016
12:00 - 16:30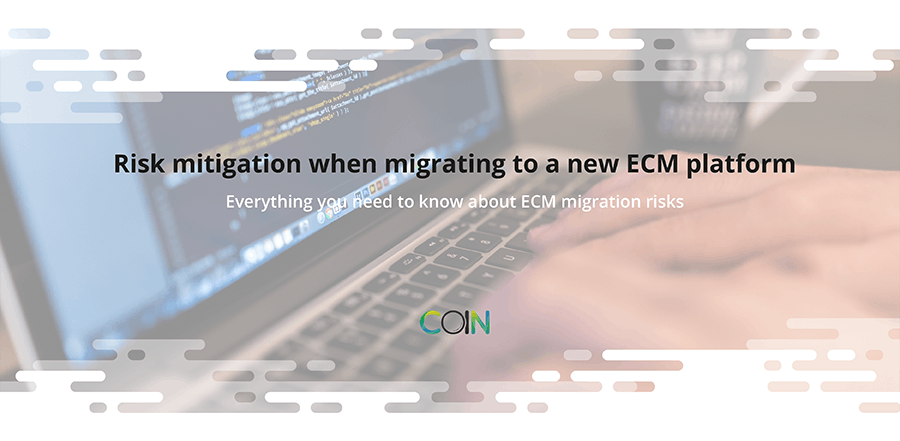 Moving to a new ECM without disrupting your business?
Is your company thinking of moving to a new ECM / CMS?
Do you want to unlock critical business information?
Do you want to assure your information managers that the existing content will migrated automatically?
An ECM migration is a project that many companies postpone until the platform is so outdated that users start to complain. Often the reasons for postponing are risk related:
What do I do with existing content? Migrate or not? Manually or automatically?
How can I be sure the content doesn't disappear while migrating?
How can I migrate the governance of roles and rights to another platform?
Will the users adopt the new solution?
How can I migrate and innovate in one single project?

Why are you postponing your ECM migration?
Risk Mitigation of an ECM migration project is crucial to eliminate as much uncertainty ( and thus risk ) as possible and to reduce invested time and resources.
Stop postponing and learn how to manage your migration risks at our event:
Learn how to manage your ECM migration
Find out how to lower your migration risks significantly
Explore the advantages of an open source content platform
Determine how to migrate away from an ECM like Sharepoint
Listen to stories of companies that succesfully migrated
Discover the evolution of Liferay as an ECM
Talk to our ECM engineers and project managers during the lunch and networking


Agenda
11:15 - 12:15 ----- Registration & Welcome
12.15 - 12:30 ----- Intro: Identify your risks -> manage your risks (by Jelle Van der Linden)
12:30 - 13:30 ----- Lunch: Meet and Eat
13:30 - 14:15 ----- Migrate away from Sharepoint (by Peter Mesotten)
14:15 - 14:45 ----- Liferay: Your digital experience platform (by Koen Van Dillen)
14:45 - 15:30 ----- Project Management of an ECM migration (by Reinert D'haene)
15:30 - 16:30 ----- Networking with drinks and snacks
Partner of Liferay

Location